From what I've read, almost every food and fitness blogger gets this question repeatedly, and most give the same answer: just because this is what I do doesn't mean it's what you should do! I definitely stand behind this. I've even come to realize that what I'm doing now wouldn't have been right for me a year ago, and might not be right for me a year from now.
That being said, it can be really interesting and helpful to see other people's nutrition tips. As Jen over at Peas and Crayons always says:
—-
What WIAW 
isn't
 about
—-
Comparison – Judgement – Restriction – Guilt
Celebrating one of the glorious things we all have in common: We all eat!
WIAW is about food and fun! It's about making new friends, breaking out of a food rut, noting changes in your diet/lifestyle, inspiring yourself & others, embracing fruit & vegetables, nourishing your body with the foods that work for you, finding new ways to eat your favorite foods, and so. much. more. <3
Celebrate Food.  Celebrate blogging.  Celebrate Individuality.
[Cause over here, we like to party!]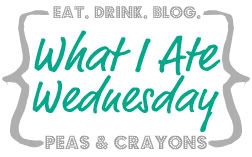 I just might start joining in the WIAW fun, but for now, it's a Friday edition of what I ate Thursday.

Breakfast:
Green juice! I had been on a protein shake kick for a while, but when I don't workout in the morning, I love to start my day with green juice. If I'm still hungry after that, I'll usually have a homeade muffin or some dry cereal for snacking.
This one has 2 green apples, a big handful of kale, a big handful of romaine lettuce, 1/2 cucumber, 2 celery stalks, 2 oz. lemon juice, and some fresh parsley. YUM!! I throw it all in my Vitamix and then squeeze it through a filtration bag.
I usually don't eat breakfast until 9ish, so I'm rarely hungry for a snack between breakfast and lunch. 

Lunch:
My usual lunch is some version of vegetable powerbowl. Sometimes, however, I have the luxury of eating lunch at home. This week I was in the mood for something warm and savory. I threw together a delicious tofu scramble with a little Bragg's, nutritional yeast, and curry.
As I've said before, tofu and other concentrated forms of soy protein are not a regular part of my diet, but I enjoy them on occasion.
I spy brussel sprouts, kale, broccoli, mushrooms, onion, and garlic! 
We had some spaghetti squash and quinoa in the fridge, so I used that as the base when I served it up. With roasted carrot and a few grape tomatoes on the side, it was a delicious rainbow!

Snack:
Afternoon snack is a staple in my life. There is no way I would make it from 12 or 1 until 7 without eating. Some people do this every day. Me? I get the h-anger. It's the anger that comes like a raging fire when you're SO HUNGRY! The go to snack for me is a piece of fruit and a bar, but lately I've been getting a little more creative, since I've been trying to save money by not buying so many bars. Latest obsession? OATMEAL.
In the morning when I'm packing my lunch, I take 1/2 c. oats, 3/4 c. almond milk, and whatever mix-ins I desire, and I throw them into a tupperware. By the time 3 o'clock rolls around, the oatmeal is a perfect pudding, no microwaving necessary. I've tried pumpkin with cinnamon and stevia and a few others, but my latest favorite is strawberry cinnamon with chia seeds. 

Dinner: 
Dinner's lately have been haphazardly thrown together, but that doesn't mean they haven't been delicious! I got a bit creative in the kitchen the other night and made a delicious sauce. I mixed hummus, nutritional yeast, Seitanbacher vegetable broth seasoning (my alternative to buying premade veggie broth), curry powder, and warm water. Yes, I'm obsessed with curry. 
We had some leftover black rice in the fridge from my Black Rice Tempeh Wraps, so I topped it with some black beans, tons of veggies, and my new sauce. The picture doesn't do it justice – I forgot to snap one until it was over halfway gone. Sorry!
I used kale, carrot, green beans, and mushrooms – all organic produce we received in this weeks Boston Organics box. 

Dessert: 
There is always dessert in this house people. You know how some people have a sweet tooth and others get more salty cravings? I'm have a major sweet tooth. On occasion I splurge with banana soft serve or Newman's O's (the mint variety), but usually I stick with dark chocolate for the go to solution.
So, there it is folks. What I generally eat in a day. Now that my body fat percentage is down to a fitness level, I've stopped counting calories. So far so good! My focus is on choosing WHOLE VEGAN foods that make me feel energized and healthy. Listening to my body is something I work on every day, but it is unbelievably rewarding!
Last, but not least, don't forget to check out CandyFit's blog today for Recipe Friday! 
Cheers to the weekend. Have a drink for me.
AvocadoAthlete
Share This!