So, my phone is filled up with pictures of meals that really have no good category to fit in, but that I want to share with you guys!
Enter, WIAW: Eat All the Things.
Enjoy!
Breakfasts

:

I usually always have a green smoothie post-workout, but on days when I don't workout first thing in the morning, oatmeal is my go to. My latest obsession:
Lunches

:

Some version of a HUGE salad.

The common thread? Whole Foods' Sun Dried Tomato Salad Dressing (from the brand Cindy's Kitchen). TRY THIS NOW. It smells like pizza and tastes like amazingness.
Snack

:
Dinners

:

Food prep:
When my fridge is basically empty, this has been my go to:
I microwave the brussel sprouts and (frozen) brown rice in their bags (Trader Joes). Throw in half a can of soup and a frozen patty. When dinner comes, microwave for 2 minutes and enjoy.
Quick and easy at-home dinner:
Desserts

:
What meals have you been enjoying lately? It's not hard to eat healthy when you're short on time – what shortcuts have you found? 
Cheers,
Avocado Athlete
(ps) Don't forget to check out some other WIAW posts!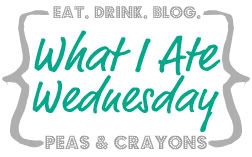 Social Share